My two year old daughter has once again managed to express herself on the freshly painted living room walls.
"Oona! No drawing on the walls!" I yell in my loud, Mommy-in-charge voice.
She looks up at me with those innocent eyes.
"Don't wowy, Mommy. Don't wowy, Mommy." she says over and over.
I am stifling a smile as best I could. She sounds so sweet I just want to hug her. But I prevail since it's disciplining time. She sees I am not budging from my firm-mommy stance and therefore, ups the ante.
"I'm sowee, Mommy." almond-doe eyes cast down, feigning remorse.
Uh-oh. That one's got to work. Mommy-in-charge face melting away fast.
"It's okay, honey. Come. Give Mommy a kiss and huggabug..." my eyes are closed, lips puckered, ready to receive the sweetest kiss from the little angel.
Wait.
No kiss.
No hug.
I open my eyes.
No child.
Little angel is off and running. I bet she's considering self-expression on the kitchen wall next.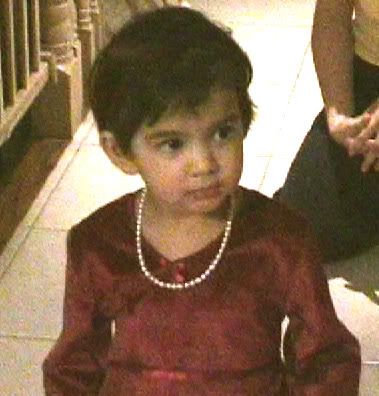 My great, young artist ~ Oona, on her 2nd b-day, Nov. 28, 2004