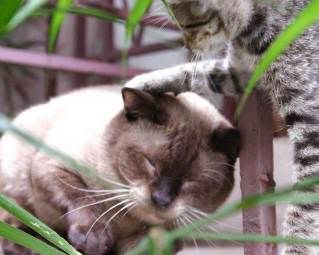 Piwaket and PalmDale, Hampton Gardens, Canon 300D
(for B.)
I will not apologize for choosing to be honest.
And I will not hide from the truth just because you choose to turn away.
I have learned the painful lessons early in life.
I just wonder how you've missed out on it,
Having experienced the painful drama together.
There was so much to learn from those dark years.
I find it so sad that you have chosen to repeat the old patterns.
And risk having the one's you love go through it all over again.

Can you even bear the thought?

If there was something all the pain of the past taught me,
It is that hiding from the truth, painful as it may be, only brings more pain.
Facing the truth, on the other hand, brings lasting healing.

I send you ~
Courage
Healing thoughts
Powerful prayers
and above all,
TRUE LOVE

I choose to heal.
I pray you do, too.