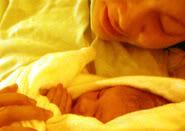 Brand New Mom
(file photo)
It's the last day of the year. I take stock...I look back...I like what I see.
It's been a beautiful year of major transitions, inner healing and transformations...a year of puzzle pieces falling into place, hearts getting softer, warmer, larger...STRONGER...a year of knowing where I am...and joyfully sitting...just breathing...calmly, deeply, knowingly.
LOVINGLY.
The Universe' loving abundance has been made manifest in many ways...mostly through the kindess and caring of friends and family...my heart swells with gratitude for all of them...and I wish each beautiful soul a year of Love, Light, Laughter and yes...
a year of LIVING ONE'S LIFE FULLY.
It's the only way I know to be truly joyful.
So as I bid farewell to 2004, let me share this prayer to one and all ~
I seek . . .
To know my Self more and more and Honor that which I come to know
To be gentle with my Self in every way...every day
To be firm enough to remember to strive for my highest good always
To see everything and everyone with eyes connected to my heart and not just my head
To rejoice in my Goddess-given kindness and share my gifts with all who seek
To receive abundance in my life and give back to life from the Universe' overflowing well of prosperity and joy

And as always
To let go and let God
A blessed new year to you.