{{{I wrote this poem for my Dad on his 59th birthday. That was six years ago. It was his 65th yesterday and I love him just as much! Now I'm sharing it and letting everyone know about my first love and all around hero! Happy Birthday, Dad! I love you always. - From your one and only --- *Star*}}}
Hello, Dear Daddy
How have you been
It's wonderful, Daddy
To see you again
A million and one things
I'd like to say to you
Where and how to start
I haven't got a clue
Maybe I can begin
With a line from my heart
"I love you, Daddy."
How's that for a start
Or perhaps I can say
A simple "Thank You!"
For the way you brought me up
With the attitude: Can Do!
You've always been my hero
The love of my life
Even when times were hard
And so full of strife
You have taught me a lesson
You said, "Never give up."
And for that Dearest Daddy
I will never stop---
Being thankful for your loving
Forever Daddy's little girl
Happy Birthday Dearest Daddy
You're the best in the world!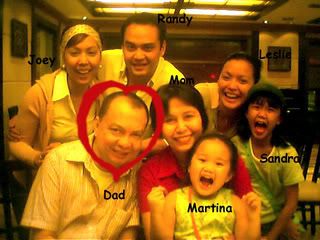 I miss you all so much! - K.