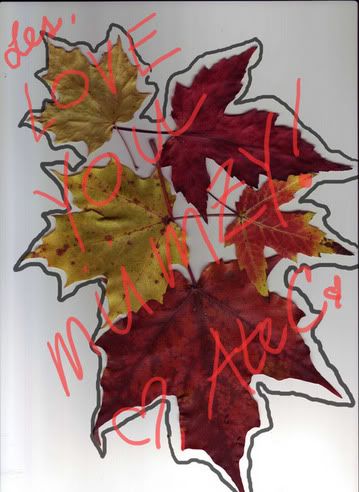 Autumn Leaves Collage on Canon Scanner



The other day, I received a really sweet e-mail from my sister, Leslie. She said she admired how, in spite of the busy, busy life I have, I still had time to write meaningful stuff. I am humbled by the 'meaningful' and absolutely agree with the 'busy'. And if there's any meaningful*ness to draw from the words I write, I have realized that it's really what I needed to hear in the first place. If anyone else finds use for my words, that would be the sweet icing on the cake. Leslie can make really good cakes and pies, too, by the way. I so miss our all-favorite, the famous Mango Cream Pie a la Les.

But I digress.

You and I know that taking care of kids is NOT a piece of cake. In fact, it's downright difficult (read:shaitty) With help or without, kids are a challenge to raise. There are days when I'm on top of the world, feeling like the perfect mom to the perfect kids. Funny thing this feelings business because just as soon as you think these I-am-super-mom thoughts, everything goes down the toilet. Today was one of those not-so-perfect days where I was feeling more like a perfect failure. I almost believed it, too. Until one child, barely five, says something so sweet, so simple yet so profound (darn it, yes I am a biased mom!) that I am left with jaw hanging, in total awe and wonder.

Me:
Don't forget to say your goodnight prayers, Sol.
Sol:
(sleepily) Mom, you do it pleeease...
Me:
Honey, it's your thank you prayer so you say it...
Sol:
Awww, oh-kay...Dear God, thank you for my wonderful day. (the standard intro bought from Mom & Pop's of good manners and right conduct) Thank you for giving Mommy time to rest today. And dear God, please help Mommy get lots of help so she won't be so tired and grumpy.
Me:
(happy tears forming) Oh, thanks my love! That's so sweet. But, uh, you might want to have prayers for yourself, too, ya?
Sol:
Nope. I just want to pray for you tonight. Goodnight, Mom. I love you.
Me:
(happy tears all over again.)
This is why I write.

I write because I am grateful. I write because I am angry. I write to vent. I write to understand. I write to put it out there so I can create the illusion of having a better handle on the situation and as if by magic, I do end up having a better handle on the situation. In the end, I simply write to write because if I don't I find it hard to breathe.

Writing is a respite. It is the shelter from the ever-changing weather of emotions that are as intense as the freakiest roller-coaster ride you've ever been on. I cherish reaching up, reaching down while screaming wildly, inwardly onto the paper from the depths of my being. I relish the salty waves that crash in and around me leaving me reeling and breathless. I marvel at how I am able to feel so much and how many colors there are to observe, to paint, to share. Best of all, I am fascinated by how I imagine I am the only one on this crazy boat and discover again and again (from others' writings) that I am on a great big ship filled with other passengers going crazy along with me. Isn't it what we all ultimately long for, the connection with and understanding of others?

What is the purpose of all this crazy-making activity? Is there a purpose to it at all? If so, will I find it in this lifetime? If and when I do, what will I do with it?

So many questions in here, so many answers out there...or is it the other way around? Are the questions out there and the answers in here?

Ah, I write and then write some more. And hope, in the noisy silence of my heart, the Divine Universe comes through with the answers I need for the moment's prayer. This, for me, makes writing the best form of prayer.

Oh, and yes, I write to remember that I can have my cake and eat it, too.

Thank you, sweet Leslie, for your delicious words. I love you. And your cakes and pies, too.

Pahingiiiiiii! :-)





For me, writing is the creative expression that allows me to touch and co-create the meaning and beauty I ache for. I know this because when I am writing I never feel I should be doing anything else, be anywhere else or be other than I am. And this is joy. Although I am usually alone when I am writing, I never feel lonely; writing connects me to both my essential inner self and the world around me. Loneliness is a loss of connection with the self that knows its belonging. It can be felt when we are with others. It can be banished when we deeply engage in creative work that feeds us. ~ Oriah Mountain Dreamer