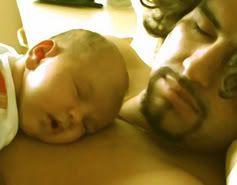 Solomon (1 week old) with first-time daddy, Jack
Lazy Sunday Morning
Makati, Philippines
My darling first-born came to life on September 4, 2000.
So did I.
Here's a link to Solomon Joshua's
birth day
.
This was the very first iMovie project I proudly and lovingly created on my iBook a few years ago.
I feel it's time to share it with you.
Promise, no gooey-eeky stuff was included in the production. LOL
If there's anything one is truly and whole-heartedly to be grateful for ~ it would be children.
The best lessons I've ever learned in my life were taught to me by my precious kids, Solomon~Oona~Joshim.
And a special dedication goes to my JJ Tribe to which I lovingly post this entry. They have been the magical "wind beneath my wings...".
ENJOY!
in gratitude,
Kat