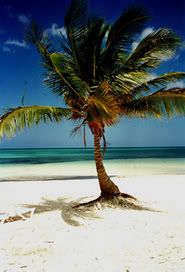 ~
Bora Tree
~
It is a tricky one, this finding balance in life. We live life as we walk, one step at a time. And with each step, we gain a new perspective. There are huge lessons about nurturing self, being kind to self, making self a priority-not to the exclusion of those we love but on a par with those commitments and with a recognition that, if OUR well is not full, nothing else is possible for us and we lose our capacity to contribute to others.
–
Ingrid Kincaid
,
http://www.100words.net
member's name: silly mischief
I am counting the days. Approximately two more weeks to go, fourteen days, more or less, before we take that flight to my warm, sunny homeland in the South Pacific. All the chaos involved in sorting, packing, de-cluttering and packing some more gets easier to handle as long as I keep this vision crystal clear in my head ~
Hello, SPAaahhh days, beach bummin' and home-cooked food a la Mama Grandma days! Hello, beloved family slash extra hand days to take care of my babies! Hello beloved housekeepers and nanny days to make sure this tired Mama gets her much-needed rest for a change!
Hello, hello, hello and welcome to my wonderful world of WOW-DAYS!
All in my head, for now-days.