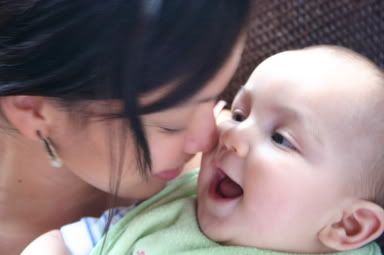 Mommy-to-be, Leslie** with nephew Joshim
Canon 300D
This year, I made a special commitment. To myself. My Self. To care for, nurture, give time to me. To listen, really listen to what my insides are saying. To know when to stop spinning and to turn off. To do all this and not allow the old guilts to show up. To do this and not give too much attention to old voices from the past that say it's not okay since I'm not yet perfect - it's selfish, heaven-forbid - evil even! - to remotely consider putting importance on the Self - which, of course, is a bunch of right-wing religion-in-a box crappola.
So far, this Me First Project has showed some very positive results. Since I am able to take better care of me, I can take better care of my own family. I am able to spend more quality-time with loved ones because of a quality-me. Since I am more relaxed, cheerful, balanced, my outlook in life has improved tremendously as well. Since I am able to listen with my heart to that voice deep within, I am able to listen to others with ears connected to that place inside that can truly hears.
I like this Me that I've become. I like her because - she may not be perfect but she is more caring and kind. She still snaps and curses and fuzzes over things trivial, that's true, but she accepts these nuances of character and makes genuine ammends afterwards. Instead of covering up and denying her sinfulness, she admits to it thus creating an awareness from which real healing can begin. And this, to me, is what real caring for Self is all about.
That is something good. Not perfect, but real good.
That, baby, is good enough for me.
"There is no more beautiful way of honoring the love of the feminine divinity waiting to mother us than by celebrating the temple where her Spirit dwells on earth....

Today, as you walk through your own home, think year --- in small but tangible ways. There should be comfortable places from the living room to the bedroom that invite you to sit, sleep, relax and reflect. There should be small indulgences from the kitchen to the bathroom that pamper and please. There should be sources of beauty throughout that inspire, order that restores, and the quiet grace of simplicity that soothes. The poet Ntozake Shange writes, "i found god in myself and i loved her/i loved her fiercely."
-
Sarah Ban Breathnach, Simple Abundance
**Thank you, sisterlove, for being one of my best Self-Care Expert icons. You seem to know this stuff by heart, you beautiful mommy-to-be! Shine on, bebe!!! - Love you lots, Ate C.