He came to me a year ago.
All ten pounds two ounces of fresh baby.
Joshim Abraham Pineda Azimi.
My giant boy. My Jesus boy. My Joshim boy.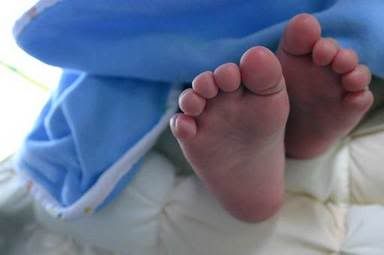 He is his Baba Jacky's Hasheim jaan.
His Papa Grandpa's Jose/Hoisin sauce.(!)
His Momoni jaan's Ibrahim jaan.
His Babajaan's Gool i Baba
His Tita Leslie and Tita Joey's MochiBall.
His Aunt Bahar's Little Dolphin.
His Nanny's Little Governor.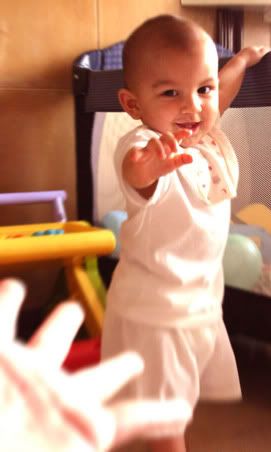 They all have these cutesy names for our cutesy boy.
His first official word is "duck" followed closely by "dog" at nine months.
His favorite activity is walking. He took his first step at ten months.
His favorite foods after Mommy's breastmilk are Ate Berna's tinola and arroz caldo.
His favorite song is Somewhere Over the Rainbow, his lullaby Hush Little Baby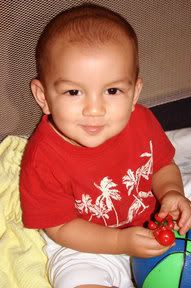 His smile...oh, that big smile just brings a sweet sizzle in his Mommy's heart
His hands are humongous.
His voice is booming enormous.
He's got the most commanding presence in the house.
And the strongest bite to boot!
Whether happy-playful, sleepy-angry, annoyed-hungry
He will show it by his signature gigil bite
On either toy, spoon, teether...
Shoulder, ear, finger...
We've learned our lesson well, and painfully, too!
His front teeth, all four on top and two below came out almost at the same time
As if racing to take center stage along with their owner

This early I can tell that this one is going to be larger than life.
Call it Mother's Intuition.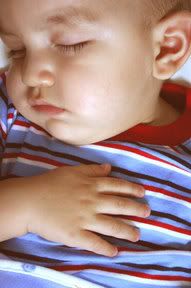 No matter the name, no matter the size,
No matter the bitten off, lost body part
Our little big boy will always be Mommy's little angel
Today, tomorrow and forevermore.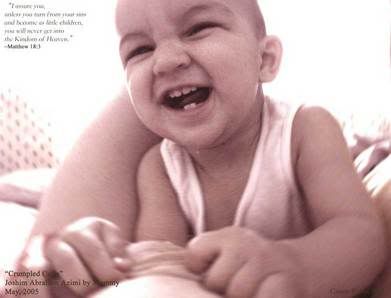 Happy Birthday, my darling baby.
In this mother's humble opinion
The fourth of July has now found a truly worthy reason for its fireworks.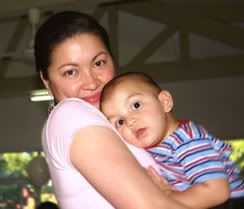 (Photo by Leslie Pineda-Albano)