PART THREE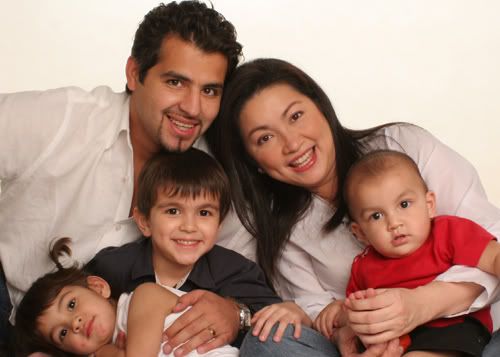 The Azimi Family, Photo by The Picture Company, Podium, Manila
I am constantly reminded by the Divine to keep focused on the stuff that truly matter in this life. For a long time I allowed the clutter to crowd out the important things and guess where that led me? Yup, straight to a living hell! No wonder I always felt so tired and confused most times. I was trying very hard to handle, juggle, spin, take care, solve, manage and manipulate everything.
Worry, anxiety and care have no positive effect on our lives. They do not bring a solution to problems. They do not help us achieve good health, and prevent our growth in the Word of God. One of the ways that Satan steals the Word of God from our heart is through cares. The Bible says we are to cast our cares onto God, which is done by prayer. We cannot handle our own problems; we are not built for it. We are created by God to be dependent upon Him, to bring Him our challenges and to allow Him to help us with them.
Joyce Meyer, Life in the Word
It does not matter so much what religion or faith one goes by. I believe we all have our own personal ways of dealing with our everyday challenges. We may all look up to a higher power in one way or another. I have learned many different ways of handling things - both the good and the bad - and I find the best and mightiest and most effective way for finding the answers when I need it most is always when I am down on my knees praying for it. It was not in some team-building seminar or peptalk or rally, or intimate conversation with a friend or partner. Not saying that these don't help, oh no, no, no. They certainly and absolutely do. But they only go so far and then what? The same pattern repeats itself and I find myself in an a never-ending cycle of problems with band-aid solutions.
I choose a different path, a way of handling things, this time. One that is no longer just MY owb. But one that I walk with the Almighty. Yes, I know there will still be more challenges that will come my way. But what's different about me is that this time I choose not to carry the load all my own. Why the heck would I want to do that when I can choose to travel LIGHT!
Therefore humble yourselves...casting the whole of your care [all your anxieties, all your worries, all your concerns, once and for all] on HIm, for He cares for you affectionately and cares about you watchfully. ~ 1 Peter 5:6,7